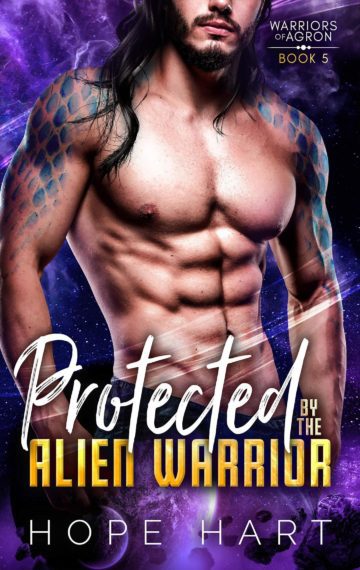 $4.99
Buy Now
Read A Sample
See The Reviews
See The Full Series
Buy The Audiobook
Narrator:

Dana Dae

Available in:

Kindle, Kindle Unlimited, Audiobook, Print

Pages:

192

Duration:

5 hrs and 9 mins

Published:

July 10, 2020
I'm officially Agron's most wanted.

What's scarier than being abducted from Earth and almost eaten by cannibals? The idea of falling in love with a huge alien warrior.
Just a few days ago, I was living my best life. Now? I'm on the run on a strange alien planet. Thanks to my short temper and a severe lack of self-control, I'm being hunted, and it's only a matter of time before I end up captured or dead.
Now, a hulking Braxian warrior has found me, right when it looked like I had no way out. To say that it's suspicious timing is an understatement. Everyone knows you can't trust the tall, dark, handsome types.
Vrex may have his own reasons for joining me on this rollercoaster ride, but all I know is that I need his help. Now, I just have to convince him to help me sneak into the dragon's territory and find Charlie, who the beast seems to think belongs to him.
Cause the aliens who bought us? They weren't alone. Their friends are on their way to Agron. Us human women need to stick together if we're going to get off this planet alive.
As for Vrex? If he helps me, I'll be in his debt. If there's one thing I've learned about the giant warrior, it's that he always gets what he's owed.
I'd be lying if I said I wasn't looking forward to it…
Protected by the Alien Warrior is a full-length romance with no cliffhanger and a guaranteed HEA. While this can be read on its own, you'll enjoy it much more after reading the first four books in this series.

If you like hot, dominant aliens, kick-ass heroines, and steamy romance, you'll love Warriors of Agron- Hope Hart's new sci-fi romance series.
Read it Now.